Watch the Patriots Game at 900 and Enjoy Happy Hour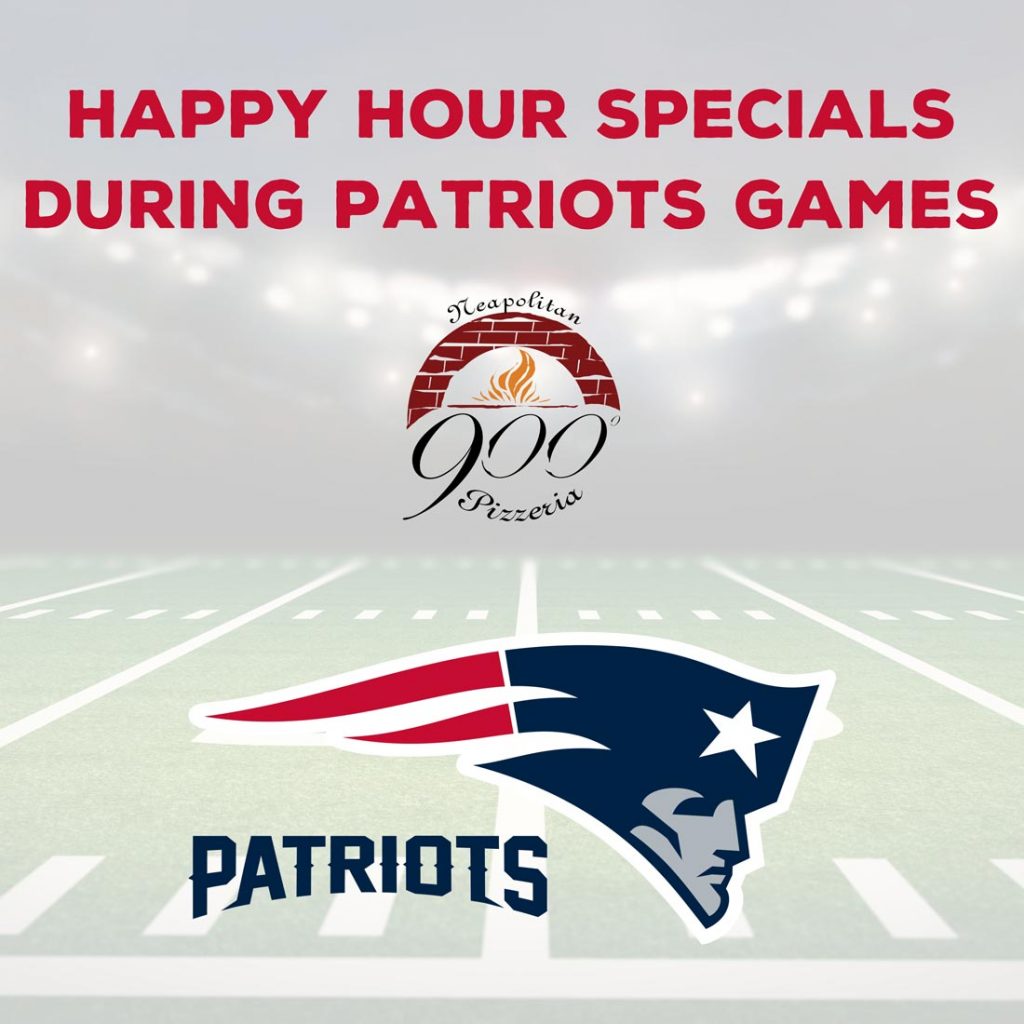 *Please note that these specials are available for dine-in customers at the bar ONLY.
Are you ready to take your New England Patriots game day experience to the next level? Well, 900 Degrees has just the touchdown-worthy offer you've been waiting for. We are thrilled to announce that our Happy Hour specials, typically reserved for Monday through Friday, will now be available during every New England Patriots game. That's right, you can now watch the Patriots game at 900 Degrees and enjoy your favorite food and drinks at unbeatable prices while cheering on your team to victory.
A Winning Lineup of Specials
While you watch the Patriots game at 900 Degrees Neapolitan Pizzeria in downtown Manchester, NH, you can savor the excitement with our extended Happy Hour specials. For just $4.50, you can enjoy select draft beers that showcase the best of local craft brews. Our draft selections are constantly changing, so be sure to ask your server about our current offerings. Whether you prefer a refreshing IPA or a classic lager, we've got the perfect beer to complement your game day experience.
If wine is more your style, you're in luck. For just $5.95, you can indulge in a glass of our house wine, featuring Cabernet, Chianti, Pinot Grigio, or Chardonnay. It's the ideal way to unwind and savor every play, touchdown, and victory sip by sip.
Food specials include 1/2 off select appetizers, along with Happy Hour personal pizzas. During the Patriots game, you can enjoy half off 900 Meatballs and Rustic Garlic Bread. Happy Hour personal pizzas are not available for takeout.
The Perfect Game Day Companions
While you enjoy our unbeatable food and drink specials, don't forget to explore our entire menu to discover selections to enhance your Patriots viewing experience. Here are some of the fantastic options you can choose from as you watch the Patriots game:
Tuscan Wings: Dive into a plate of our Tuscan Wings, perfectly seasoned and cooked to perfection. A full pound of wood-fired jumbo chicken wings marinated in garlic & Italian seasoning, served with parmesan peppercorn dipping sauce. With your choice of buffalo, whiskey glaze or bees wing, they are the ideal game day snack.
Signature Pizzas: Our pizzas are award-winning, and there's no better time to enjoy them than while you watch the Patriots game. From classic Margherita to inventive creations, we have a pizza for every palate.
Our menu is also filled with a variety of delicious dishes, including salads, pasta, sandwiches, and more. Explore the Lunch Menu, Dinner Menu, Vegan Menu, Wine List, and Cocktails & Beer Menu to discover how there's something for everyone to enjoy while watching the Patriots game.
Click here to see the full New England Patriots schedule.