Enjoy Vegan Food in Manchester NH at 900 Degrees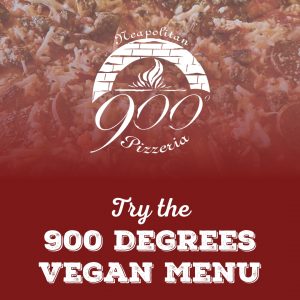 Are you on the lookout for delicious vegan food in Manchester, NH? Look no further than 900 Degrees Neapolitan Pizzeria. We've been offering a delectable vegan menu that caters to the growing demand for plant-based options. And now, we're excited to introduce a mouthwatering new dessert to our vegan lineup: the Vegan Chocolate Mousse.
Our commitment to providing a diverse and satisfying dining experience led us to create a vegan menu that leaves no taste bud unsatisfied. From savory dishes to now a sweet finale, our vegan food in Manchester is designed to delight. Indulge in the following vegan selections:
Plant-Based Cheese Pizza "Americana": House tomato sauce, oregano, and plant based cheese.
900 Degrees "Green" House Pie: House tomato sauce, fresh garlic, oregano, vegan sausage, vegan pepperoni, and our vegan cheese.
"Alternative Sausage" Puttanesca: Vegan and Gluten free rotini pasta with caramelized onion, roasted red peppers, capers, kalamata olives, plant-based sausage and our house tomato sauce.
Vegan Chocolate Mousse: It's back and here to stay! House made vegan chocolate mousse, made with gluten free Oreos, whipped coconut milk, and vegan chocolate syrup!
At 900 Degrees, we believe that everyone should have the chance to enjoy flavorful, high-quality vegan food in Manchester, regardless of dietary preferences. Our vegan offerings are a testament to this belief, providing a range of options that cater to plant-based lifestyles without compromising on taste.
If you're in Manchester, New Hampshire, and searching for vegan food near you, look no further. 900 Degrees Neapolitan Pizzeria is your destination for a vegan menu that's sure to satisfy. Come and experience the goodness of vegan dining at its finest.
ABOUT 900 DEGREES NEAPOLITAN PIZZERIA
900 Degrees Neapolitan Pizzeria is known for its authentically unique wood fired pizza – housemade the way it was originally intended. This is just one of the reasons people drive from all over New England to enjoy our award-winning Neapolitan pizzas.
Along with our freshly baked, award-winning, gourmet pizzas, our refined menu offers the finest pastas, salads, appetizers, and desserts, featuring quality ingredients both sourced locally and imported from Naples, Italy. Each of our menu items, including our signature cocktails and beer selections, appetizers, and desserts, are thoughtfully curated to provide extraordinary and unmatched dining experiences.
---