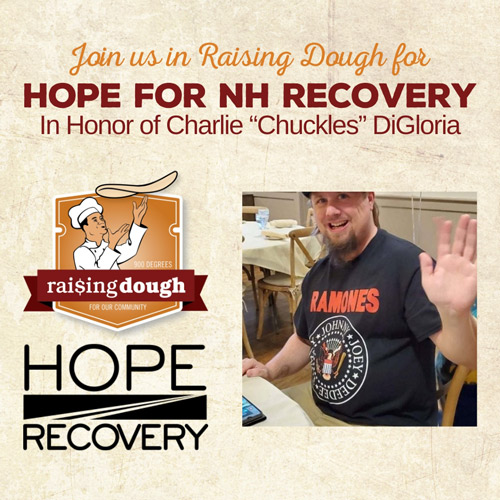 Hope for New Hampshire Recovery Raising Dough Fundraiser
Hope for New Hampshire Recovery Raising Dough Fundraiser
On Monday, October 30th, 900 Degrees Neapolitan Pizzeria is hosting a Raising Dough fundraiser to benefit Hope for New Hampshire Recovery in honor of one of our cooks' late cousin, Charlie "Chuckles" DiGloria. A man who always filled the room with laughter and smiles, Charlie was loved by everyone who knew him. Sadly, he lost his battle with mental health and addition. In Charlie's name, we ask our community to join together and enjoy some 900 Degrees October specials with friends and family in moments filled with laughter and joy, just like Charlie would have. A few of the October specials are named after Charlie, including Charlie's Pecan BBQ Wings and Chuckle's Chocolate Chip Ice Cream, and a portion of sales on October 30th will be donated to Hope for NH Recovery his memory.
Charlie suffered from mental health issues for a good portion of his life. When he graduated high school, he dealt with a medical issue that led him to drugs, and after being prescribed them over and over again, it became a way of life for him to hide the pain of a traumatic childhood experience. Charlie cleaned himself up for many years, but then again hit rock bottom. His depression and drug use won this time around.
Charlie is deeply missed by his family and friends, who were very important to him. He loved everyone he came into contact with and always felt the need to look out for and protect others. Charlie was a person who could walk into a room and make everyone smile just by looking at his smile, or with one of his witty comments – his favorite being "I have a belly button."
Would you like to honor Charlie and support Hope for New Hampshire Recovery? Please join us at 900 Degrees on October 30th after 5:00pm. Be sure to mention to your server that you are dining to support this Raising Dough fundraiser, and a portion of sales will be directly donated to Hope for NH Recovery. This applies to dine-in customers only.
ABOUT RAISING DOUGH
900 Degrees is grateful to the Greater Manchester community for its ongoing support throughout the last 15 years. To return the kindness, we established the Raising Dough program as one small way we give back to the community. This unique opportunity allows local nonprofit organizations including schools, sports teams, and philanthropic initiatives to receive 10 to 20% of our total dining sales on a designated date. We assist with pre-date promotion across our social media channels to boost awareness and dining traffic.
Let us partner with you to further your nonprofit mission! Contact us via email at info@900degrees.com or submit a contact form today.