Enjoy Five 900 Degrees Specials this Summer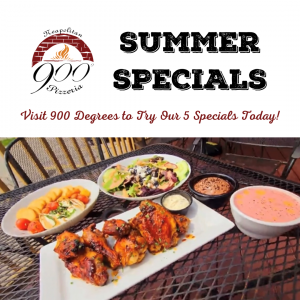 Are you ready to try the new 900 Degrees Specials? Join us this summer to enjoy five scrumptious 900 Degrees Specials from the comfort of our indoor dining room or outdoor deck.
Indulge in a culinary adventure this summer at 900 Degrees, where the enticing flavors of summer come alive with a delightful array of specials. From tantalizing Honey Buffalo Wings to refreshing Strawberry Gazpacho, each dish has been carefully crafted to bring you an unforgettable dining experience. Whether you're a meat lover or a vegan, 900 Degrees has something exceptional for everyone. Prepare your taste buds for a journey through seasonal delights as we present our summer specials, featuring delectable dishes such as Burrata with Roasted Tomatoes, Summer Delight Salad, and a divine Vegan Chocolate Mousse. Get ready to savor the essence of summer in every bite.
Honey Buffalo Wings: Our Signature Tuscan Wings tossed in a house made honey buffalo sauce made with real honey, our house buffalo, and a little bit of sriracha. Sweet and spicy!
Strawberry Gazpacho: Fresh strawberries, vanilla Greek yogurt, Riesling white wine, and garnished with house olive oil and fresh cracked black pepper. Alcohol is cooked out.
Burrata with Roasted Tomatoes: Fresh, milky burrata mozzarella, served with a mixed medley of roasted cherry tomatoes, fresh basil, balsamic glaze, and crostini. Any fan of our Bruschetta will LOVE this!
Summer Delight Salad: Spring mix, fresh blueberries, pistachios, goat cheese crumble, radishes, cucumber, and a homemade strawberry peach jalapeño dressing.

Vegan Chocolate Mousse: It's back and here to stay! House made vegan chocolate mousse, made with gluten free Oreos, whipped coconut milk, and vegan chocolate syrup!
This summer, 900 Degrees invites you to savor the very best of the season with our irresistible specials. Discover the perfect balance of sweet and spicy with our Honey Buffalo Wings, where succulent chicken wings are coated in a delectable honey buffalo sauce. Experience the refreshing burst of flavors in our Strawberry Gazpacho, a chilled soup that combines the natural sweetness of strawberries with the zing of cracked pepper. Treat yourself to the indulgent creaminess of Burrata with Roasted Tomatoes, where velvety cheese meets the rich intensity of roasted tomatoes. For a lighter option, our Summer Delight Salad will tantalize your taste buds with a delightful medley of fresh seasonal ingredients. And for those with a sweet tooth, our Vegan Chocolate Mousse offers a velvety-smooth and decadent finale to your meal. Don't miss out on these extraordinary culinary creations, available exclusively at 900 Degrees this summer. Join us and savor the taste of summer before it's gone.
Don't miss your chance to try these 900 Degrees Specials! Enjoy our summer specials before it is too late.