900 Degrees Neapolitan Pizzeria North End Living Business Sponsor Spotlight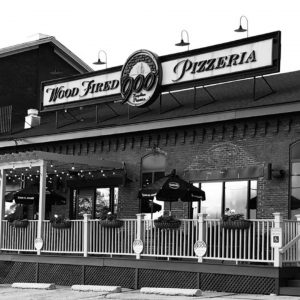 Business Sponsor Spotlight
By owner Priscilla Lane-Rondeau

Until I left for college, my hometown was New Ipswich, where my parents tended a gentleman's farm for 50 years. Dad taught music, and Mom was a school administrator, until they turned their passion into a business, owning and operating the Fitzwilliam Antiques Center. They were sustainable before the word was in vogue, growing food and raising animals, including chickens, sheep, goats, and pigs, feeding me and my two siblings.
My husband Ken and I blended our families (my son and his two daughters) in 2004 and have expanded with two new sons-in-law and blessed us with five grandchildren. All of them are successful and settled in their own homes within miles of each on our Seacoast, leaving us empty nesters to enjoy our two miniature dachshunds, Emmy and Oscar.
An associate's degree in human services landed me my first job counseling troubled teens at Brattleboro Retreat in Vermont. I moved to Manchester to attend SHNU and obtain my BA in the same field. This led to one of my favorite careers at PSNH as their employee assistance counselor. It was very rewarding, and I worked with many wonderful people. I also received my MBA from Rivier College during that time. I left PSNH when my son was born, had my own counseling business for several years, and then dabbled in real estate.
For over 20 years, our home away from home has been Cape Cod. There, we frequented a restaurant featuring mouthwatering thin-crust Neapolitan pizza. Thinking that there was nothing similar back in Manchester, we recognized an opportunity, from which 900 Degrees Neapolitan Pizzeria was born in 2004.
Sometimes, when you want something, you just must do it yourself. Using our home as a test kitchen for over a year, it was time to look for a location. Finding and repurposing our present location in the Historic Millyard sealed the deal. The renovation was recognized by the Manchester Historic Society with a preservation award.
At 900, we have a passion for great food and having fun. We want our guests to have an experience when they are dining with us… fresh food, great customer service, and a rustic but beautiful atmosphere. I am certain the influence of my parents in self-sufficiency, sustainability and entrepreneurship were the roots from which the passion to start this enterprise arose. We are also passionate about the environment being the first Green Giant Award recipient in the history of the New Hampshire Restaurant and Lodging Association. We are also passionate about our community. Our Raising Dough program has benefitted over 250 local nonprofit organizations.
Having your own business can have the highest of highs and the lowest of lows, but it is all yours no matter what. I have always likened it to managing a moving train. It's 24/7, so you must love what you are doing. Meet challenges head-on, from whatever direction they may come, as in our present pandemic situation. Most importantly, for a successful home-grown enterprise, support local whenever you can. I buy local at every opportunity; it's contagious in a good way.